10ml
Regular price
£68.99
Sale price
£68.99
Unit price
per
Sale
Sold out
🌟 Buy 1 Get 1 FREE 🌟 use code - WINTER
Restore, relax, and rejuvenate … naturally! With the power naturally embedded in hemp, which we at Reakiro extract and distill into our premium quality CBD oil, you have one of the most popular and versatile supplements available.

All batches of Reakiro products are tested in independent third-party laboratories to ensure quality and consistency.

Lab Report (COA)

Batch 0623

Batch 0323

Batch 1222
Ingredients

Hemp Seed Oil, Hemp Extract derived Cannabidiol (CBD)
Care Instructions

Recommended daily dose: For optimum results take 5 drops of CBD Oil 15% under the tongue twice a day and hold for at least one minute, then swallow. Shake well before use.


Product information: Serving size 5 drops, amount CBD per serving 25 mg, servings per container 60
Share
View full details
---
Size / Volume

10 ml / 1500 mg per bottle

Total CBD

1500 mg CBD

Serving

25 mg CBD per serving / 5 drops

Product Facts

Based on hemp seed oil
---
Experience Reakiro Full-spectrum CBD Oil 1500mg
Are you looking for premium 1500mg CBD oil? Well, you've come to the right place. At Reakiro, we pride ourselves on creating high-quality full-spectrum CBD oil for UK customers. This product contains our premium quality full-spectrum extract which contains all the natural cannabinoids, flavonoids, and terpenes found in the hemp plant. By keeping these components together, it has been found that this boosts the effectiveness of the active CBD.

Our products are made from the finest ingredients, without any additives to ensure their purity. We take extra care to oversee our CBD oil production from seed to product and care about every step of the process. This allows us to produce high-strength CBD. As a result, you get to experience the best 1500 CBD oil on the market right now.

This 1500mg strength oil is our second-highest strength CBD oil. This CBD oil is an ideal product for you if you know that you have a high tolerance to CBD. If you are looking for a stronger or weaker product our CBD oils range in strength from 300mg to 3000mg - discover Reakiro's CBD oil range.
How To Use 1500mg CBD Oil
Everyone is different so we're here to help you learn how to best introduce Reakiro Full-spectrum CBD Oil 1500mg into your lifestyle.
CBD oil is an incredibly handy and convenient way to take CBD. The small tincture is easy to carry with you on the go with a built-in dropper doubling up as a lid. We recommend taking 3-6 drops of CBD, and if taking it sublingually place the dropper under your tongue and hold the oil for up to 90 seconds and then swallow. If you want to increase or decrease the amount you're taking you can very easily control this using the dropper.
Using our CBD oil 1500mg is easier than you think. We appreciate that no two people are the same, so you may have your own preferences for how to take CBD. The good news is that our CBD oil can be taken in two different ways:
Option 1: Directly in your mouth

The first option is to take your CBD oil 1500mg and drop it straight into your mouth. To do this, you fill the dropper and squeeze the oil into your mouth, just under your tongue: 1 drop equates to 5mg of CBD. Hold the oil under your tongue for 1 -1.5 minutes before swallowing as this ensures the oil diffuses into your body.

Option 2: In your food/drink

The second option is to add drops of CBD oil to your food or drink. It can be added to coffee, tea, smoothies, porridge, etc. All you have to do is squeeze out droplets yet again and then enjoy your food or beverage.
Caution:

Do not exceed the recommended daily dose. It is recommended that no more than 70 mg CBD is taken daily from all sources. This product is not intended for pregnant or lactating mothers. Individuals taking medication or having any medical concerns should consult with a health practitioner prior to use. If any adverse reactions occur or if you feel unwell, discontinue use and seek medical advice. 

THC level is below 0.2%

Storage:

Do not refrigerate, store away from excessive heat, light, and humidity. This product is not intended to diagnose, treat, cure or prevent any disease.

Food Supplements must not be used as a substitute for a balanced diet.

Keep out of reach of children and pets.
The Advantages of Reakiro Full-Spectrum CBD Oil 1500mg
Reakiro has been recognised for the Best Extract-Based Tincture 2022. Thus this product contains the finest tincture made from the extract, 1500mg of Full-spectrum CBD in total, making it our high-strength CBD oil.
Each bottle of Reakiro Full-spectrum CBD oil 1500mg provides the following benefits:
Full spectrum - full benefits

As mentioned before, this is a full-spectrum CBD oil, meaning you get all of the nutrients from the hemp plant. It doesn't just contain CBD, it contains all other cannabinoids and useful compounds (To learn more, see our Cannabinoid profile).
Quality in every drop

Natural ingredients only. You will find nothing untoward in our 1500mg CBD oil. In fact, it only contains two ingredients: hemp seed oil and hemp extract-derived CBD, both of which are completely naturally occurring. As a premium-quality product, we offer CBD oil with a natural earthy taste. It's not overpowering under your tongue and it works really well in drinks and other food substances.
Minimal THC levels. Some customers worry about trying CBD oil 1500mg because of the THC content. This is the compound in cannabis that causes psychoactive effects in your body and produces the "high" feeling. Well, there really is no need to worry, our CBD oil contains less than 0.2% THC, so you will not see any adverse or psychoactive effects.
A premium product you can trust

Manufacturer Reakiro continuously tracks the lifespan of a product from seed to sale. Whereas most companies contract out the extraction to other parties, we manufacture all of our CBD oil in-house in a facility that is HACCP, GMP, and GHP certified using a cutting-edge hyper-cryogenic ethanol extraction method. We collaborate with independent, skilled, and specialised cannabis testing laboratories for biomass and spot testing of all our goods to ensure their premium quality.
Rigorous testing for safety and purity

All our products are third-party tested. It's extremely important to us that we provide high-quality 1500mg CBD oil for you to experience. Therefore, this product is tested by third-party laboratories to ensure it meets the highest standards. You can even view a full lab report to see exactly what's in the product and the percentages of cannabinoids.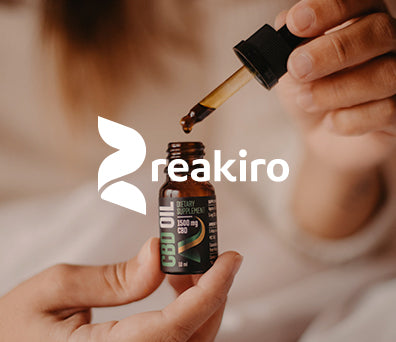 REAKIRO MEANS RECOVERY
Reakiro is a leading European GMP/HACCP/GHP certified manufacturer and supplier of full-spectrum CBD oils, creams, and capsules. Reakiro's award-winning creative product design is outstanding and its customer service is considered to be among the best.
View Reakiro CBD Range
Reakiro Full-spectrum CBD Oil 1500mg
What does 1500mg pure CBD oil full spectrum mean?

Full-spectrum CBD oil means it contains all other cannabinoids from the hemp plant, plus other key nutrients. This is not the same as broad-spectrum CBD oil, which contains CBD and other compounds, minus THC. Please, see the lab report on the product page to learn all details. We use third-party verification for our quality commitment.
What is the recommended 1500mg CBD oil dosage per day?

Perhaps you started with a lower-strength product - like our 300mg CBD oil - and discovered that you can easily tolerate it. You upgraded to a slightly stronger dose, yet struggled to see the difference. This CBD product gives you some room to test your tolerance. As such, CBD oil 1500mg is extremely beneficial for individuals that are continuing their exploration of CBD products.

Usually, It is recommended that you take 25mg of CBD oil twice per day to have a better chance of seeing the benefits. However, you should not exceed 70mg of CBD in total throughout the day. So, check that you aren't taking any additional CBD via other products that could push you above this threshold.

How to control your daily dose of CBD?
The dropper that comes with this CBD oil gives you 5mg per drop. In turn, you can easily control how much you take every single day, depending on if you also use other CBD products.
How do you store CBD 1500 oil?

The best way to store our 1500mg CBD oil UK is in a cool dark place. Keep it away from excessive heat, light, and humidity. Also, ensure it is out of reach of children and pets.
What is the best way to use CBD oil?

Aside from the wonderful concentration of CBD in each bottle, our 1500mg CBD oil comes with an easy way to ingest CBD. If you live a busy lifestyle and want a product that gives you a dose of CBD as quickly as possible, this full-spectrum CBD oil is perfect. It's the simplest way of ingesting CBD as you just place some droplets under your tongue, or add it to your morning coffee!

According to our 1500mg CBD oil reviews, the best way to use this product is by taking it directly in the mouth. This offers the quickest absorption and it ensures your body absorbs as much CBD as possible. However, you can still take it in food or drink if that's your preference.