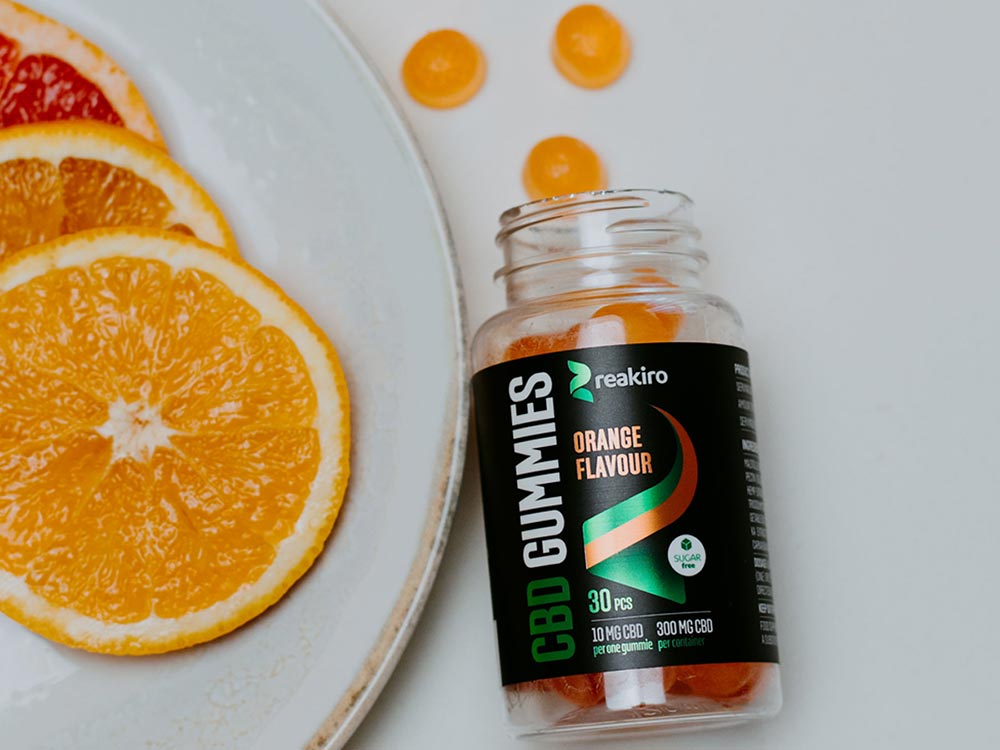 What are CBD gummies by Reakiro?
CBD (cannabidiol) gummies are chewy edibles packed with natural CBD extract and an array of fruity flavours. In appearance and in taste, CBD gummies are incredibly similar to the enjoyable experience of eating a gummy sweet - which is just one of the reasons why people love them so much. But not only are our CBD gummies fun and convenient to take, they are also packed full of natural ingredients and goodness. Reakiro gummies are infused with our premium quality broad spectrum or full spectrum CBD extract, an extract made from the finest expertly grown hemp with all the elements found naturally occurring in the plant.
The benefits of CBD gummies
CBD gummies have benefits that we can split into two categories, the first being the benefits of CBD in general and the second being the benefits of CBD being in this particular form.
Owing to the way in which CBD interacts with a wide range of receptors in the body, the wellness benefits of taking CBD stretch far and wide. This system of receptors is known as the body's endocannabinoid system and is believed to play an important role in maintaining homeostasis, which is essentially the body's chemical balance. In turn, CBD can influence a significant number of daily functions and afflictions such as sleep, mood, pain management, anxiety and stress management, energy, and immune functioning.
We'll hear more about the benefits and the reasons people may wish to take CBD shortly, but before this, we need to talk about all the benefits of taking CBD in gummy form.
What sets the best CBD gummies apart from other forms and methods of taking CBD is their flavour and the convenience of eating them. Reakiro's CBD gummies are packed full of an array of natural fruity flavours, not just restricting people to one taste, but offering something for everyone. The flavours and form make taking CBD gummies as easy as chewing one of your favourite sweet treats, but it's important to remember that these are not just sweets and they each contain an exact dosage of CBD. Depending on your tolerance to CBD and how much you wish to ingest on each occasion, you can alter your CBD gummy intake accordingly. Each gummy has a precise premeasured amount of broad spectrum or full spectrum CBD so you can easily track your intake.
Discover more about CBD gummies
Why do people take CBD gummies?

Through the endocannabinoid system, CBD affects the body in numerous ways, many of which are a result of CBD's capacity to maintain a normal level of homeostasis - also known as the body's balance and stability. Some of the reasons people take CBD gummies is to confront a particular condition or affliction. This includes improved sleep quality, better focus, reduced stress and greater pain management. Reakiro is not a medical body and can therefore not distribute medical advice, but we do strongly encourage you to engage with the expanding research on this natural compound and consult with your doctor if you have any medical questions or concerns.

But while some people take CBD gummies to address a very specific issue in the body, many other people simply incorporate CBD gummies into their day as a way of including a dose of CBD into their system. Reakiro's CBD gummies are an all-natural product and a way of getting a natural boost into your body, something many people who are becoming more and more health and wellness conscious would like to do.
How do you take CBD gummies?

Taking CBD gummies is super convenient, which is yet another reason why so many people love them. Reakiro's CBD gummies come in a small travel sized bottle, meaning you can pop them in your bag, in your pocket, or in your desk drawer and they're on hand whenever you need them. Taking the best CBD gummies is also extremely discreet, meaning if you want to do so out in public or amongst people, but maybe you'd rather not draw attention to yourself, you have the perfect solution. All you need to do is place the gummy in your mouth, chew, enjoy the burst of natural flavours and let the restorative sensations of CBD wash through your body.
What are the best CBD gummies?

At Reakiro we know that one size does not fit all. All our bodies are made differently, which is a beautiful thing, but it also means that our needs differ from person to person. Just because there's one specific dosage or a flavour of CBD gummies which are perfect for one person, this does not necessarily mean that it will be the perfect CBD gummy for everyone. At Reakiro we recognise this and we have made seven different types of CBD gummies. The differences include flavour, strength, vegan-friendly formulation, sugar-free formulation, and type of CBD extract.
How do I know CBD gummies are the right product for me?

CBD gummies are an extremely popular product due to their flavourful taste and enjoyable chew, not to mention how easy they are to carry and consume on the go. Their popularity speaks volumes about how many people find that this is the right product for them, but you might be asking, are CBD gummies the right product for me?

Think about what you want from your CBD experience, if a gummy form sounds appealing to you and if you would prefer these bursting fruity flavours or if you would rather taste the natural earthiness of hemp when you consume CBD. Reakiro CBD gummies come in an array of potencies, flavours and formulations - so maybe all that's left to do is to try CBD gummies and find out if they are the product for you.
There are two ways of increasing or decreasing your CBD dosage, you can either consume more or less of the same product, or you can find a product which offers different potency options within the products. Reakiro CBD gummies are available with 10mg of CBD per gummy, 25mg of CBD per gummy, and 50mg of CBD per gummy. If you are taking CBD gummies for the first time or if you are unsure about your optimal dosage we would recommend starting with a lower dosage and gradually increasing it while keeping track of the difference in effects the gummies have on you. Do bear in mind that this is a process that shouldn't be rushed, on different days and in different circumstances the gummies may affect you differently so take your time and listen to your body.
There are two different types of CBD extract available in Reakiro's CBD gummies, broad spectrum and full spectrum. Our full spectrum extract contains all the compounds found naturally occurring in the hemp plant prior to extraction and keeps them present in the final extract. Research has shown that when all of these components are kept together they synergise and enhance the effects. This is known as the entourage effect. Broad spectrum extract contains all the components present in the original plant, with the exception of THC (tetrahydrocannabinol). THC is the cannabinoid in cannabis which is responsible for its psychoactive effects. THC levels will always be lower than 0.2% in Reakiro's full spectrum so it can have no psychoactive effects, and in our broad spectrum extract, the levels of THC are 0%.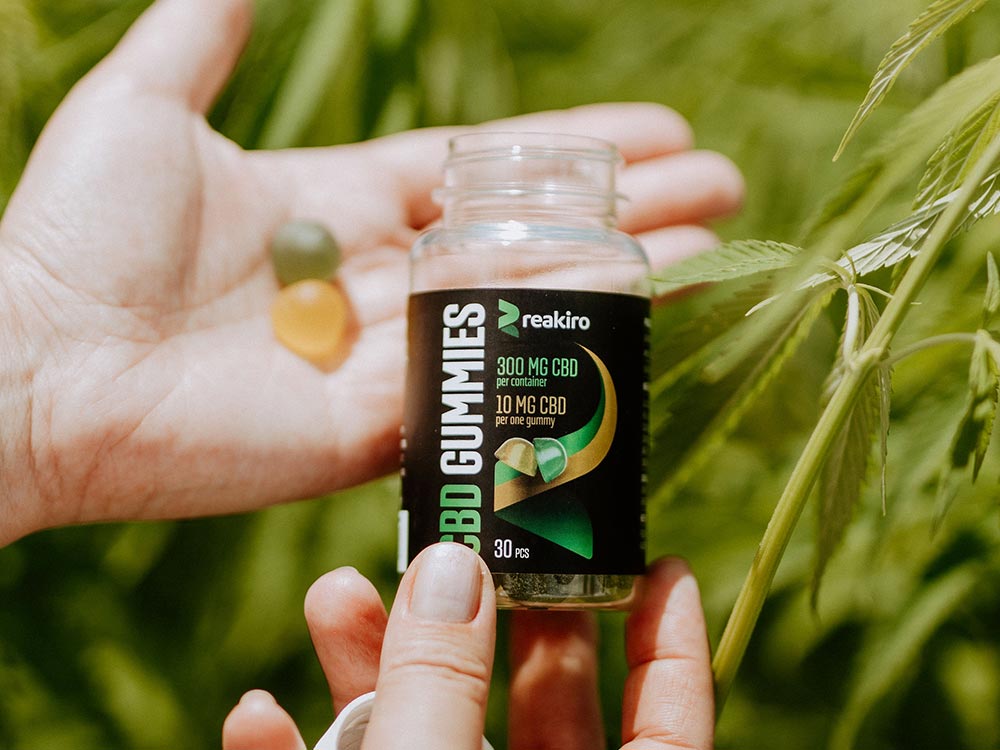 Here is the range of CBD gummies available from Reakiro:
Reakiro CBD Gummies Apple & Lemon 300mg, 10mg per gummy, 30pcs
Reakiro CBD Gummies Apple & Lemon 750mg, 25mg per gummy, 30pcs
Reakiro CBD Gummies Apple & Lemon 1500mg , 50mg per gummy, 30pcs
Reakiro CBD Vegan, sugar-free Gummies Orange 300mg, 10mg per gummy, 30pcs
Reakiro CBD Vegan, sugar-free Gummies Cherry 750mg, 25mg per gummy, 30pcs
Sool Broad Spectrum CBD Gummies 750mg, 30 pcs, THC Free
Sool Broad Spectrum CBD Gummies 300mg, 30 pcs, THC Free
FAQs
Can CBD gummies be taken for pain in the UK?

While we cannot give medical advice, there is a large amount of published scientific research and clinical trials which link CBD and the way that it acts in our bodies to pain management and reduction. CBD gummies are completely legal for sale and consumption in the UK as long as they meet the requirement of containing less than 0.2%. Reakiro CBD UK products all contain less than 0.2% THC.
Are CBD gummies taken for arthritis in the UK?

While we cannot give medical advice, there are studies and clinical trials which have linked CBD to helping relieve the symptoms of arthritis. Studies show that CBD has pain-relieving and anti-inflammatory properties, which are two of the most debilitating symptoms of arthritis. Anecdotally, people living with arthritis who have taken CBD to help with their condition have reported improved sleep quality, reduced pain, and reduced anxiety levels.
Can CBD be taken for anxiety in the UK?

While we cannot give medical advice, anecdotally many people find that the calming effects of CBD have helped to reduce their anxiety levels. Studies have been carried out linking CBD to relieving those suffering from intense social anxiety, and it has also been found that CBD interacts with our internal systems in a similar way to SSRIs (selective serotonin reuptake inhibitors) - the most commonly prescribed antidepressants.
Can CBD be taken to help bad sleep?

Due to its calming properties and effects on homeostasis, the body's natural balance and stabiliser, CBD can be a very effective, and natural supplement to help improve sleep quality. We would recommend taking a CBD gummy a couple of hours before your intended bedtime for consistent nights for the most effective results.
Are CBD gummies vegan? Where can I find vegan CBD gummies in the UK?

Not all CBD gummies are vegan friendly. As vegans will know, gummy sweets are often made with animal products to achieve this chewy consistency. But at Reakiro we want to make our CBD gummies the best, which means also making them accessible to everyone so we have a special vegan formulation available in two flavours, cherry and orange. Our vegan gummies are also sugar-free gummies.
Where can I find CBD gummies near me in the UK?

If you're looking to buy in the high street, one of the most reputable vendors for health supplements and wellness products is Holland & Barrett. Reakiro is proud to have our CBD products and their CBD gummies stocked by Holland & Barrett in-store and online. You can also find CBD gummies for sale and buy CBD gummies online via the online Reakiro CBD UK shop.