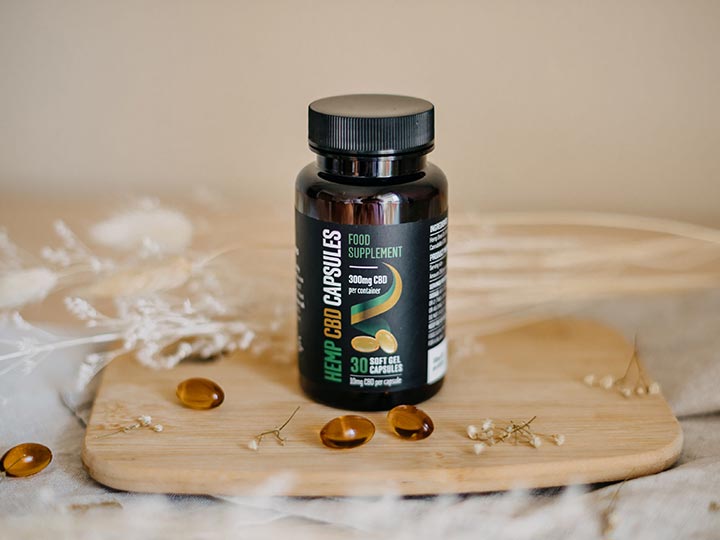 What Are CBD Capsules by Reakiro?
At Reakiro CBD UK, you'll notice we offer a broad range of CBD products and many have won awards! But, what exactly are CBD capsules? More specifically, how do they differ from the other CBD products on the market?
CBD capsules are one of the most convenient ways of enjoying CBD. Our expert team has developed easy to digest capsules, which contain CBD oil inside the capsule itself. When our CBD capsules are ingested, the soft casing dissolves, allowing the CBD oil inside to be absorbed into your body. It's a very similar process to any vitamin tablets, only you get to enjoy the potential benefits of CBD when taking them!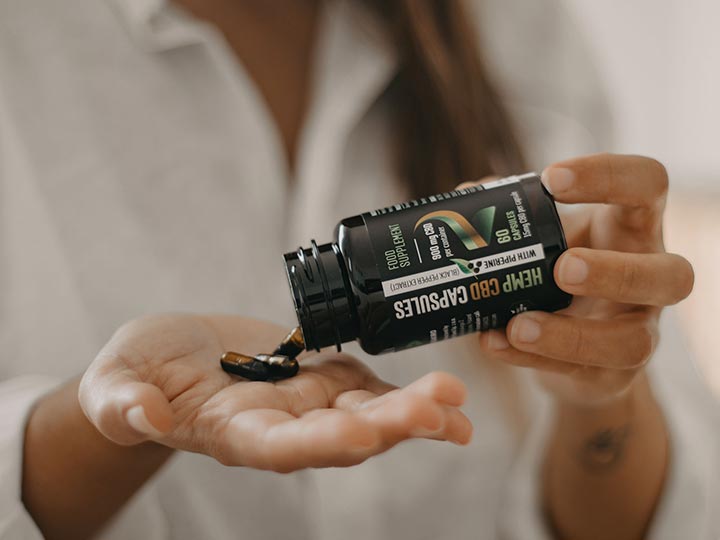 CBD Capsule Ingredients
Our capsule ingredients often separate the best CBD capsules UK from the rest. At Reakiro CBD UK we really care about our customer's well-being. We don't want to provide our customers with CBD products that are packed full of additives and other non-essential components. It's so important to us that your whole well-being is being looked after.
Primarily, our CBD capsules will contain the following ingredients: Hemp seed oil and Hemp extract-derived Cannabidiol (CBD).
In addition, we have CBD & Nutrition Vitamins capsules, as well as capsules with black pepper extract for added health benefits.
All you have to look for when purchasing CBD capsules - is to check the packaging and look at the ingredients list before you buy any CBD products. Our very high production standards mean that we also pride ourselves on keeping accurate and up-to-date lab reports for our customers. You'll see that all of the Reakiro and SOOL branded products have full lab reports for you to look at in the tab Lab Report (COA) on each product card. These reports inform you of the CBD and cannabinoid content of the products, as well as the THC levels. In the UK, all CBD capsules must contain below 0.2% THC. We are always completely transparent with our lab testing, ensuring that you can be 100% confident in our CBD products.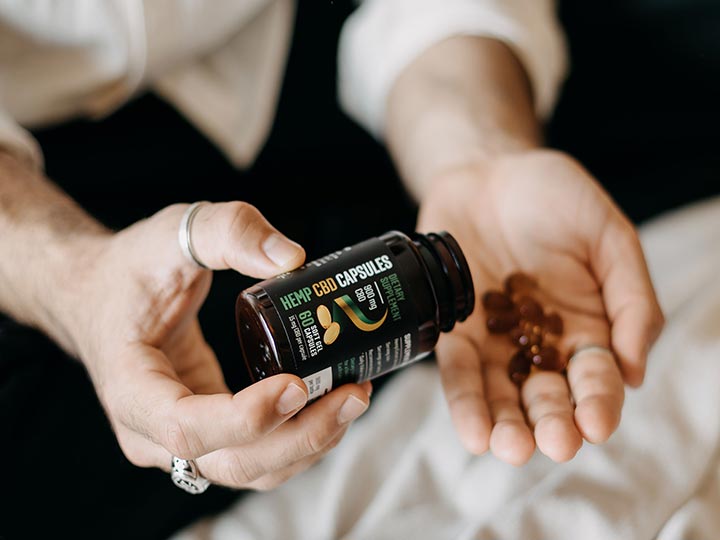 Reakiro Full-Spectrum CBD Capsules
These have a high enough CBD content and below 0.2% THC, along with other cannabinoids, flavonoids, and terpenes. This formulation allows you to get the most out of the entourage effect of the capsules.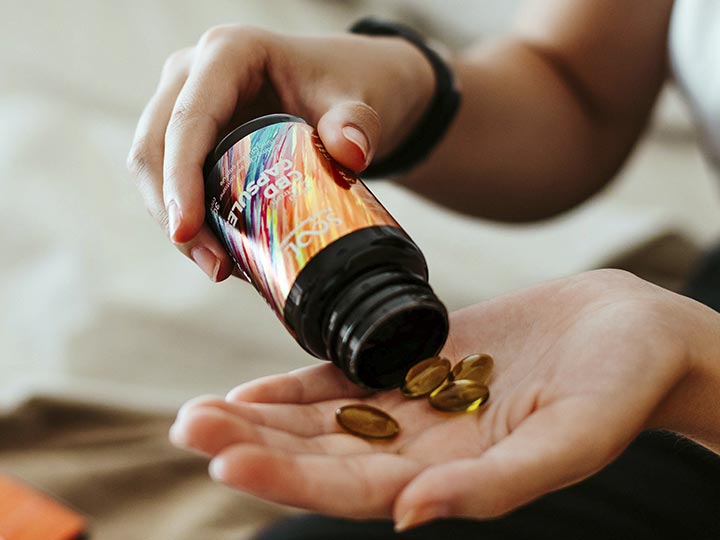 SOOL Broad-Spectrum CBD Capsules
These also contain CBD and other cannabinoids, flavonoids, and terpenes, but NO THC at all. If you're worried about the possible effects of THC, these products will bring you peace of mind.
✔️ It is important to note that any full-spectrum CBD still contains minimal THC. But, some customers still prefer to opt for broad-spectrum CBD capsules and that's completely your choice. We love to be able to offer a selection of products based on an individual's needs - because we are all so different!
To Choose the Best Cannabidoil Capsules
How To Take CBD Capsules

Unlike other products on the Reakiro website, our capsules should be ingested. CBD oils and sprays can be used in various ways, but capsules need to be ingested orally. To begin, you must check the product packaging to see what the recommended serving size is. For most of our capsules, this will be two tablets per day. Simply follow the instructions on the packaging, swallowing your capsules with some water. 

However, we do recommend that newcomers to the world of CBD take a smaller dose. We suggest starting with one of our lower dosage capsules. You can then see if this still provides the expected benefits and then increase the serving size if it doesn't. 

In general, the Food Standards Agency recommends that the maximum daily dose of CBD is 70mg for adults. However, your tolerance of CBD depends on different factors - such as height and weight. Someone with a larger build may need more CBD to feel the effects when compared to an individual who is naturally smaller. Our advice is to take your capsules regularly for a couple of weeks and see if you are experiencing any positive side effects. If you think it's not working as expected, try increasing the dosage slightly and see if that improves things.
Choosing Between CBD Oil or CBD Capsules UK

We understand that it can be difficult to understand the difference between all the CBD products out there. Reakiro CBD has a wide variety of CBD oils for our customers to choose from, including both full and broad-spectrum options. Naturally, you may wonder whether to buy CBD oil or capsules - and how do they differ?

Fundamentally, both products contain CBD oil. The difference is in how each product is consumed, which affects the reactions you see in your body. Our CBD oil tinctures are designed to be squirted under your tongue. This is also a great method, as it allows the CBD to be absorbed in the bloodstream a lot faster than via capsules. Consequently, you're likely to see the effects of the product a lot sooner. 

On the other hand, our organic CBD capsules are ingested and absorbed through your digestive system. While this takes a little longer to enter the bloodstream, it also means that the effects should last a lot longer. You get a steady and prolonged effect with capsules, while CBD oil is excellent for a quick jolt of CBD. 
Buy CBD Oil Capsules UK

The Reakiro family are very proud of our CBD products - we are award-winning manufacturers and retailers of CBD capsules in the UK. Over the 6 years we have been in the CBD industry, we have perfected the craft of refining hemp to create the perfect CBD products. Our customers receive high-strength capsules that contain minimal ingredients to maintain the purity of the CBD and cannabinoids within each one. 

Additionally, all of Reakiro's CBD capsules and other products follow the current UK laws and regulations. Your wellbeing is of the utmost importance to us. We guarantee that our products are safe for you to consume, giving you 100% confidence that you're not only buying a fantastic CBD product, but that we really care about your all-round health. All of our lab reports are available for you to view if you want further confirmation of what's inside each CBD capsule and how safe they are. 

Ordering your CBD oil capsules from Reakiro is easier than ever. Simply browse through our vast collection online, and choose the products that best meet your health and wellbeing needs. They're available in a variety of strengths - from 10mg per capsule up to 50mg - and can be used to help maintain a wide range of bodily functions. Our team at Reakiro are always on hand should you have any questions, so don't hesitate to contact us if you need more help before making the purchase.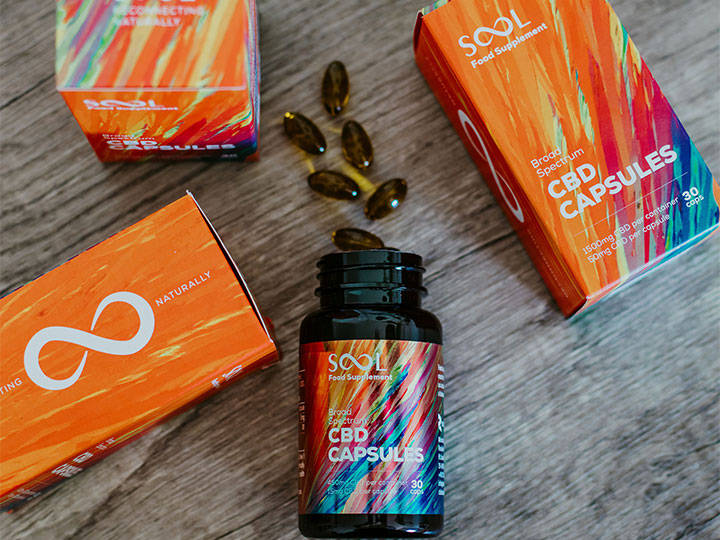 Premium CBD Oil Capsules From Reakiro
There are lots of companies that sell CBD oil capsules in the UK. However, Reakiro is regularly trusted by customers all over the country.
We offer premium CBD oil capsules that are taken "from seed to sale" using a tried and tested extraction process.
We at the Reakiro team are extremely meticulous in hemp processing. Consequently, this allows us to gain the most cannabinoid yield for each of our products, providing our customers with first-class CBD products across the board.
It leaves us with exceptional CBD oil that can then be encased in a vegan-friendly capsule and packaged ready for you to use.
We constantly strive to stay true to our mission - to deliver consistently high-quality and cutting-edge CBD products to consumers.
CBD Capsules UK FAQs
At Reakiro, it's vital to us that we give our customers as much clarity and transparency whenever they purchase products from our store. So, we've answered a selection of frequently asked questions related to our CBD capsule products:
Collapsible content
What are the benefits of CBD capsules UK?

The benefits of CBD capsules can vary depending on the specific products you are purchasing. If you take a look at our range, you'll find we have capsules that may support the following aspects of your health:

✔️ Immune support

✔️ Metabolism support

✔️ Energy support

✔️ Skin perfection 

✔️ Omega3 support

Additionally, you will get to experience the possible benefits of cannabidiol itself. Taking CBD capsules might help you to maintain a sense of calm, supporting the maintenance of healthy stress levels. 
How strong are Reakiro's CBD capsules?

High-strength CBD capsules can vary quite a lot in the UK. Generally, anything with more than 10mg of CBD is considered a strong CBD capsule. All of our products have a minimum of 10mg CBD, but this can rise to higher dosages depending on the product. 

What is the strongest CBD capsule in the UK? Usually, anything that's around 25mg of CBD is considered the strongest capsule you can buy. We also have SOOL Capsules that contain 50mg of CBD per capsule. While this dosage is seen to be quite high, the dosage is usually limited to one capsule per day. 
Should you buy cheap CBD capsules UK?

It is easy to buy CBD capsules in the UK at many different price points. At Reakiro, we have developed products that start as low as £22.99 and rise to as high as £69.99. Typically, the price will rise depending on the strength of the capsules and the quality of the CBD oil extract. 

Clearly, everyone has a budget that they wish to stick to. The important thing isn't necessarily the price, but more the ingredients and the quality of the product. We always advise to check the ingredients of any 'cheap' CBD capsules to be sure they still contain quality ingredients. Look for up to date lab reports as well, to see the CBD and other cannabinoid contents, ensuring that you are definitely going to have a CBD product that's worth buying. 

Our advice is to also check CBD capsule reviews to see what other customers have said about the products. This can help you figure out if a cheaper option is better than a more expensive one. Sometimes, the reviews suggest that it's better to invest a bit more money for a higher quality product. 
How long do CBD capsules take to work?

The CBD in your capsules will be absorbed via the digestive tract, but the exact amount of time this takes to work will depend on the capsule and the individual. It can take as little as 20 minutes for some people, but as long as two hours for others. Because the CBD stays in your system for a longer time, it will mean you see sustained effects - which is the advantage of capsules and edibles over oils/tinctures. 
Can you get high from CBD capsules?

No, the Reakiro CBD oil capsules can not get you high. This is because we use the hemp plant to extract our CBD, which is is the low-THC form of cannabis. Additionally, all of our products are independently lab tested to ensure they fall below the 0.2% THC threshold. In the full-spectrum CBD capsules, you will get a bit of THC, but it's so minimal that it can't generate the effects associated with 'getting high'. Of course, our broad-spectrum capsules contain 0% THC.
Can you find vegan CBD capsules?

You can, but you should look at the ingredients to be extra certain you're buying ones that are vegan-friendly. Some manufacturers will use non-vegan gel casing on the capsules, so do be careful. Reakiro offers vegan option to satisfy plant-based customers. 
What are the best CBD capsules UK?

We may be biased, but the expert team at Reakiro firmly believes we have the best CBD oil capsules for sale in the country. We pride ourselves on delivering premium products made with top-class ingredients. Our customers receive soft gel capsules that are very easy to swallow and can provide you with a wealth of CBD-related benefits. They all come in premium packaging as well, so you have something that looks as good as it functions.
The health and well-being of our customers is so very important to us, we will be with you through every step of your CBD journey!
Find out about more Reakiro CBD Products