25mg CBD per capsule
Regular price
£69.99
Sale price
£69.99
Unit price
per
Sale
Sold out
🌟 Buy 1 Get 1 FREE 🌟 use code - WINTER
Can't get enough of our CBD gel capsules? Do you find yourself getting through a bottle of capsules like there's no tomorrow? Upgrade your usual 30 capsule bottle today and stock up on what you love most with our 60 capsule product.

All batches of Reakiro products are tested in independent third-party laboratories to ensure quality and consistency.
Ingredients

Hemp Seed Oil, Gelatin Capsule Shell, Hemp Extract derived Cannabidiol (CBD).
Recommended Use

Recommended daily dose: As a food supplement for adults, take 1 (one) or 2 (two) capsules daily, preferably with a meal or as directed by a health care practitioner.


Product information: Serving size 1 capsule, amount CBD per serving 25mg, servings per container 60
Reviews & Rating - 4.909090909
Share
View full details
---
Size / Volume

60 caps / 60 servings per container

Total CBD

1500 mg CBD

Serving

25 mg CBD per capsule / 1 capsule

Product Facts

Based on hemp seed oil
---
Experience Reakiro Full-spectrum CBD Gel Capsules 1500mg 60pcs
Reakiro CBD UK is delighted to showcase our full-spectrum CBD capsules 25mg. Each container includes 60 CBD capsules, delivering 25mg CBD in each dose. It's a really simple and effective way of getting your daily dose of CBD without needing to measure anything. All you have to do is take one or two of the Reakiro 1500mg CBD Gel Capsules per day!

Reakiro's premium quality CBD, which fills each and every one of our capsules, is something that we are immensely, immensely proud of. These excellent hemp CBD capsules can also be purchased in a slightly lower dose as well, perfect for individuals that are new to the CBD world. We recommend that our customers start with lower doses as 25mg CBD capsules can be extra potent if you have never tried CBD before in your life. As you keep taking the capsules, you may want to work your way up to the Reakiro high-potency CBD capsules for a larger dose if you think the lower ones aren't achieving the desired effect for you.

Each gel capsule container will give you a total quantity of 1500mg CBD capsules to enjoy that should last you one-two months. They are unflavoured and produced with the finest ingredients. All of our CBD gel capsules are made using the very best strains of hemp to extract high-quality CBD oil. This particular product contains full-spectrum CBD, meaning it includes a wide variety of other cannabinoids and flavonoids that help to elicit more powerful effects. You can view the complete lab report on our website to see exactly what goes into our CBD gel capsules and the complete number of cannabinoids that are in there.
How To Use Reakiro 1500mg Full-Spectrum Hemp CBD Gel Capsule?
Everyone is different so we're here to help you learn how to best introduce the Reakiro CBD Gel Capsules 1500 mg into your lifestyle.
Using our CBD capsules 25mg is extremely straightforward. We recommend that you use these capsules in the same way you'd use any other food supplement. It's a smart idea to take them along with other vitamins or capsules at the start of your day, preferably with food.
One serving size equates to one 25mg capsule, and you should take one or two of these per day. For most of our customers, one CBD capsule is enough for them. Take it with your breakfast or another meal as a daily CBD supplement.
Alternatively, you may choose to take your CBD capsule at a different time of the day. Some customers opt to take theirs with or after dinner, preparing for bedtime.
But please, DO NOT exceed the recommended daily dose of CBD. As stated earlier, 70mg is the maximum amount you should ingest from all sources per day. So, if you are using any other CBD products, please ensure that you check you are not going to take too much when also using these capsules. Remember, if 25mg is too high for you, we do offer similar products at lower dosages.
Caution:

Do not exceed the recommended daily dose. It is recommended that no more than 70 mg CBD is taken daily from all sources. This product is not intended for pregnant or lactating mothers. Individuals taking medication or having any medical concerns should consult with a health practitioner prior to use. If any adverse reactions occur or if you feel unwell, discontinue use and seek medical advice. 

THC level is below 0.2%

Storage:

Do not refrigerate, store away from excessive heat, light, and humidity. This product is not intended to diagnose, treat, cure or prevent any disease.

Food Supplements must not be used as a substitute for a balanced diet.

Keep out of reach of children and pets.
Why Choose Reakiro Full-spectrum CBD Capsules 25mg?
What is so special about the hemp CBD capsules Reakiro has to offer? Well, our team prides itself on providing our UK customers with the very best CBD products they can find. Reakiro has been recognised for the Best Extract-Based Tincture 2022. Our standards are extremely high, which means our customers get to enjoy exceptional products that you can trust.
With our Full-Spectrum Hemp Capsules you will enjoy:
A high dose of 25mg CBD per serving

Typically, you will see CBD capsules from other sellers and producers that only boast a CBD content of 5mg per serving. This may be enough for some, but it generally doesn't provide the same benefits that you'll see from a higher dosage. Our 25mg CBD capsules UK will give you a high dose of quality CBD in every single serving. Effectively, you get the same amount of CBD as you'd get from five capsules in a lower-potency product. We find that a lot of our customers like the higher dosage. They're able to see results in a much shorter space of time. Your health & well-being is our number one priority, so we strive to do everything we can to deliver a better outcome for you on your CBD journey.
Keep track of your daily dose of CBD easily with our CBD capsules 1500mg

One of the brilliant benefits of taking CBD capsules is that they offer a really easy way to keep track of your total daily CBD usage. Experts recommend that you should not exceed 70mg of CBD on any given day. These capsules give you 25mg in one go, so you know exactly how much you have taken in any dose. There is less need to worry about taking too much CBD on any given day as you can easily track what is in your body.
Our Hemp CBD Capsules 1500mg are made from natural ingredients

At Reakiro CBD UK, we make it our mantra to only use the finest ingredients we can source. What's more, whenever possible, we will only use natural ingredients in our products. This way, our customers get to enjoy a product that only contains three ingredients. Seriously, all you'll find are:

Hemp seed oil
Gelatin
Cannabidiol (CBD)

Our team works tirelessly to find the best strains of hemp to source from before we create our award-winning CBD products. This enables us to ensure that we select hemp that's of incredibly high quality and purity. As a result, we can extract CBD that's of the highest quality imaginable. This is then put into our capsules to give you the very best premium-quality CBD product.
Premium quality 25mg CBD capsules in the UK for an affordable price

Reakiro CBD 25mg capsules aren't just incredible in terms of quality. However, at the same time, you can enjoy a product that's extremely well-priced. We keep our prices as competitive as possible. You're not getting a cheap product by any means, but you are investing in quality ingredients at an affordable price. If you take one a day, your capsules will last two months.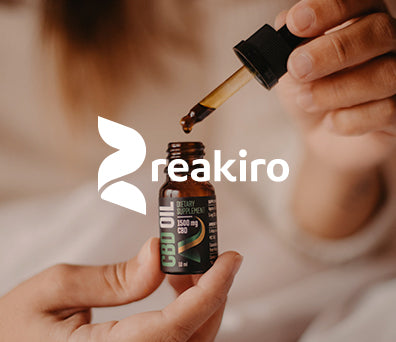 REAKIRO MEANS RECOVERY
Reakiro is a leading European GMP/HACCP/GHP certified manufacturer and supplier of full-spectrum CBD oils, creams, and capsules. Reakiro's award-winning creative product design is outstanding and its customer service is considered to be among the best.
View Reakiro CBD Range
Reakiro Full-Spectrum Hemp CBD Capsules 25mg
Are these capsules THC-free?

As a full-spectrum product, there will be small amounts of THC in each capsule. However, rest assured that the maximum amount of THC will not exceed 0.2%. So, while it does exist as in cannabidiol, it is an incredibly low amount. And do not worry, this will not mean that the capsules deliver the usual "high" associated with THC. They are perfectly safe for you to take throughout the day without worrying about any THC side effects, it really is a trace amount of THC.
Can I take more than one capsule per day?

Yes, it is technically safe to take more than one capsule per day, though the maximum you should really take is two per day. Three of our 25mg CBD capsules per day will put you just over the recommended daily limit of 70mg CBD. It's also advised that you check the dosage of any other CBD products that you are taking alongside our hemp capsules to ensure that you don't take too much.
What do our customers think about our 1500mg CBD capsules?

We have received countless positive reviews for our CBD capsules 25mg, with an average rating of five stars. If you have purchased this product (or any other Reakiro CBD product) and would like to recommend it to others, please don't hesitate to leave your own Reakiro CBD 1500mg review for others to see and benefit from, over on our website or on TrustPilot page.
Are the Reakiro 25mg CBD gel capsules vegan?

This particular product is not vegan as the outer shell of the capsule is made from gelatin. Nevertheless, we do offer vegan alternatives which would be a great option for vegans or vegetarians, such as the CBD Vegan Capsules with Piperine that contains 15mg of CBD per serving, and no gelatin at all.