Regular price
£1.99
Sale price
£1.99
Unit price
per
Sale
Sold out
🌟 Buy 1 Get 1 FREE 🌟 use code - WINTER
Killing germs doesn't need to be a process that harms your skin. It's so important to be able to clean your hands on the go, to minimise the risk of carrying bacteria and viruses you may pick up from common surfaces. Our alcohol-based sanitiser will kill 99.9% of bacteria, keeping you safe and minimising the spread of infection.

Ingredients

Isopropyl Alcohol Hydrogen, Peroxide Hemp Seed Oil, AquaGlycerin
Care Instructions

How to use: An adequate amount should be applied such that all surfaces of the hands are completely covered and remain wet for at least 10 seconds.

Spray until hands are wet and rub thoroughly until dry.
Share
View full details
Discover Reakiro Hemp Hand Sanitiser Spray
Whereas many hand sanitisers will dry out your hands due to their high alcohol content and little else, we have made the crucial addition of our natural hemp seed oil to help soothe and repair your hands when they need it most. Hemp seed oil has a large amount of essential amino acids and it is also a rich source of linoleic acid, which is best known for its ability to hydrate and protect the skin.

When you use this hand sanitising spray, as well as benefitting from its antiseptic properties - killing any germs you may have picked up on your hands - it works to heal and repair the skin on your hands which is constantly exposed to the external elements. Using this hemp hand sanitiser spray will leave your hands feeling clean, happy, and hydrated.

To use the hemp hand sanitiser spray, spray it once or twice and then rub in until the sanitiser has been absorbed. This hand sanitiser will not leave your hands feeling overly moist or sticky. You can conveniently take this hemp hand sanitiser spray with you on the go, throwing it in your bag, your jacket pocket, or your purse, giving you peace of mind that you can always stay germ-free on the move.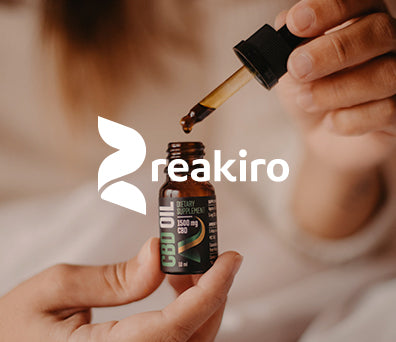 REAKIRO MEANS RECOVERY
Reakiro is a leading European GMP/HACCP/GHP certified manufacturer and supplier of full-spectrum CBD oils, creams, and capsules. Reakiro's award-winning creative product design is outstanding and its customer service is considered to be among the best.
View Reakiro CBD Range